Sensei – Blackbelt 6th Degree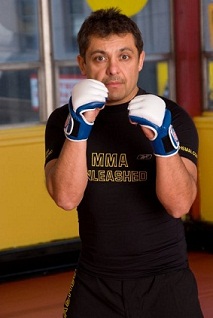 Kickboxing, Jiu-Jitsu, Mixed Martial Arts, Judo, Brazilian Jiu-Jitsu and Submission Grappling
Jiu-Jitsu & MMA
Started Jiu-jitsu in 1979
Began competing right-away in Sport Jiu-jitsu (MMA) and Grappling tourneys, and also in Wrestling and Kickboxing
Started my own club in 1991 called the Hamilton School of Martial Arts, my goal being to win a world title, and I did, twice.
In the Canadian Jiu-jitsu Championships, I took 2nd in '92; 1st in '93, '94, '95, '96 and '97
Won the team event at the US Championships in '94
In '95 in New Zealand at the World's, I took 2nd in the team event and 5th in the Individuals category
Won the '96 World Championships in the Middle Weight category, held in Virginia
Won the Fighter of the Year award in '97
Took a 2nd at Reno, Nevada in '98
Took a 2nd at Quebec in '99
Won the World Championships for a second time in 2004
Mickey Dimic is a 6th Degree Black Belt – Jiu Jitsu
In 2004: was inducted into the World Martial Arts Hall of Fame
Judo
Started Judo in 1974
Started competing right away 3 months later; won my first tournament
Loved competing; we used to have a monthly club shiai tourney: made sure I never missed one
Won the Fighter of the Year award at the club every year
Ever since I won my first tournament, I had the itch to win every one. I always wanted to win a trophy. I was infatuated with winning. I almost never missed a tourney.
I stayed with Judo for 17 years, competing.
I have won:
14 regionals
3 Ontario Judo Championships
3 Can-Ams
In the Canadian Championships I placed: 5th in '83; 3rd in '84; 2nd in '85.
Teaching, Coaching and Community Activities
Hosted 14 Canadian Championship Tournaments
Teach a Mohawk College credit course for Law and Security
Teach self-defence at the following secondary schools: Waterdown; Delta; Cathedral; Orchard Park; Scott Park; Glendale; Corpus Christie
At elementary schools I teach street-proofing for kids
Gave a seminar on self-defence to the Bayer Corporation
Volunteer for the YMCA and City of Hamilton teaching self-defence for abused women
Hold a yearly Kick-a-thon to raise money for Sick Kids Hospital, the Children's Hospital and Cancer Child
In 1998 coached two students from my club to win World Champion titles: Mark Simon (light weight) and Mike Childs (heavy weight). Mark won again in '04.
In 2001 coached the Canadian grappling team at the World's in France
In 2007, coached the Canadian team at the World's in the Channel Islands. It earned a Silver medal.
At the Jiu-jitsu World's in 2007, my student Adam Hensen became world champion in sport MMA.
In 2008, wrote the book "Mixed Martial Arts Unleashed" (McGraw-Hill: 2008) for students and fans of mixed martial arts.
Coach for Team Canada Sport Jiu-jitsu
Martial Arts Program -Special Needs